5 Linux Events You Shouldn't Miss at Arm TechCon 2019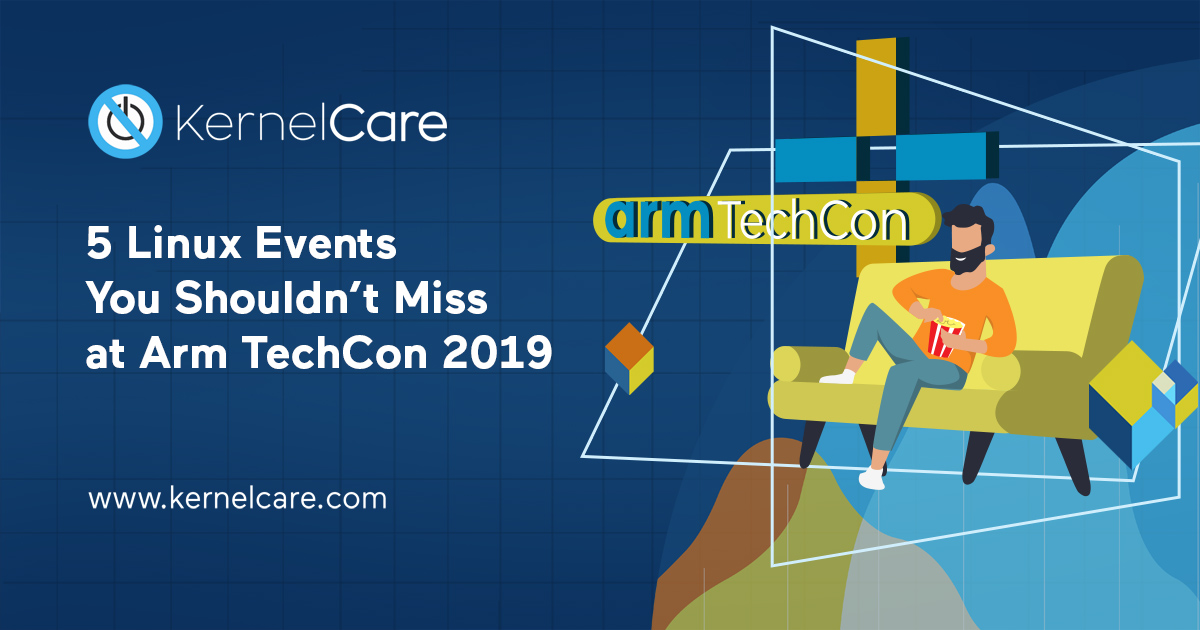 On October 8–10, at the San Jose Convention Center, the KernelCare team will be in booth #1238, discussing the importance of live kernel patching. We have been live-patching Linux kernels on ARM architectures for a while now, and we're excited to discuss embedded systems, the internet of things, and other hot-button topics.
You can also catch what will be a great talk from the CEO of CloudLinux, Igor Seletskiy. Igor is giving a talk titled "Live Patching IoT Devices" in the Expo Theatre session on October 9 at 12:45. Igor will be explaining. how KernelCare automates Linux kernel live patching on Arm devices without rebooting.
Once you're done chatting with us, and once you've caught Igor's talk, there are plenty of other fascinating Linux events to check out. Here are five of the best.
1. Drew Moseley on Arm-based IoT
Drew Moseley is a Technical Solutions Engineer at Mender.io, an open source update manager for embedded devices. He is leading a discussion on some of the considerations device manufacturers should consider when designing Linux-based connected devices. Drew will do a demo solution using a Raspberry Pi device and provide a build environment and instructions for attendees to use on their own hardware.
This session is at 4:30pm on Tuesday the 8th.
2. Jason Andrews, Zach Lasiuk, and Adam Parco on Software Development for Arm Architecture with Docker
Jason Andrews (Solutions Director) and Zach Lasiuk (Senior Solutions Designer) are both from Arm, while Adam Parco is a Director of Engineering for Edge and IoT at Docker. This two-hour hands-on workshop will introduce the best practices of using Docker containers for software development for the Arm architecture using different hardware systems. This workshop will also be a learning opportunity for software developers as Arm will discuss the benefits and simplicity Docker brings to the development process.
This session is at 3:30 PM on Tuesday the 8th.
3. Matt Spencer and Antonio Priore on Functional Safety and Open Source Software
Matt Spencer is a Senior Technology Manager for OSS at Arm, while Antonio Priore is the Director of Functional Safety. This workshop will discuss how Open Source software and Functional Safety interact with each other. Recently, initiatives to improve their relationship have been created for the benefit and safety of users (Eg. ELISA project, FuSa for XEN etc). This workshop will highlight the many initiatives that are being done to support this, and how Arm is contributes to the cause.
This session is at 4:30 PM on Tuesday the 8th.
4. Zach Lasiuk and Bruno Castelucci on CI in IoT/Embedded Devices
Zack Lasiuk (Senior Solutions Designer) and Bruno Castelucci (Staff Field Application Engineer) are both from Arm. This workshop will focus on how to create, scale, and maintain a quality continuous integration (CI) pipeline. Best-practices for CI/CD in software development will be introduced to both software engineers and dev-ops professionals that work with IoT/embedded devices. Two use-cases will be discussed: rich IoT (a Linux-based app) and constrained IoT (a bare-metal-based app).
This session is at 9:00 AM on Thursday the 10th.
5. John O'Neill and Travis Lazar on Optimized Cloud Solutions and Performance Monitoring of Cloud Software
John O'Neill (Principal Software Engineer) and Travis Lazar (Performance Engineer & Solutions Architect) are both from Ampere Computing. The company has developed a regression platform that continuously measures performance of open-source projects. In this session you can learn more about this platform, and how it collects comprehensive data-analytics which will be given back to the open-source communities, allowing them to improve aarch64 performance.
This session is at 2:30 PM on Wednesday the 9th.

Looking to automate vulnerability patching without kernel reboots, system downtime, or scheduled maintenance windows?
Become a TuxCare Guest Writer