Edubuntu 23.04: Ubuntu Packed Educational Distro
Edubuntu 23.04 has released on April 20th as an official Ubuntu flavor based on Ubuntu 23.04 (Lunar Lobster). Edubuntu, formerly known as Ubuntu Education Edition, is being maintained by the developers of Ubuntu Studio's official derivative.
The last time Edubuntu was released several years ago as a part of Ubuntu 14.04 LTS, but the educational flavor of Ubuntu Linux is finally back and hopefully here to stay for years to come.
Since Edubuntu is based on Ubuntu Desktop Edition, it will feature the GNOME desktop environment. However, it uses the lightweight Geary email client instead of Mozilla Thunderbird, which is the default email client in the Ubuntu Desktop flavors.
Education-focused applications
This educational flavor is packed with several educational software for all types of students.
GCompris: educational suite for younger children
Inkscape: vector graphics editor
Scribus: desktop publishing software
TuxPaint: drawing program for children aged 3 to 12
Stellarium: planetarium application
Calibre: e-book managing software
Furthermore, Edubuntu 23.04 includes the LibreCAD computer-aided design application for 2D design, Gramps genealogy software, Tux Typing typing tutor, Dia diagram creation program, Chemtool app for drawing chemical structures, Gobby collaborative real-time editor, Drawing simple image editor, ulcc app for teaching children by pictures, Light Speed OpenGL-based program for illustrating the effects of special relativity on the appearance of moving objects, Fritzing CAD software, Laby tool to learn programming by playing with ants and spider webs, and PDF Mod simple PDF editor.
Edubuntu also comes with preinstalled games that help to boost memory and thinking skills for students.
KHangMan: hangman game
Blinken: memory-improving game
Jigzo: jigsaw puzzle
Ri-li: arcade game for kids
GBrainy: brain exercise game
Atomix: educational puzzle game
Kanagram: game based on anagrams of words
Tux Math: practice arithmetic operations
KDE educational suite
Edubuntu features the following software from the KDE educational suite.
KAlgebra: algebraic graphing calculator
Kalzium: provide information about the periodic table of elements
KBruch: learn calculating with fractions and percentages
KGeography: to learn geography
Kig: interactive mathematics software for learning and teaching geometry
Klavaro: touch typing tutor
KLettres: learn and pronounce alphabets in a new language
KmPlot: plot graphs of functions, their integrals or derivatives
KTouch: typewriter trainer to learn touch typing
KTurtle: learn how to program
KWordQuiz: simple flashcard program
Cantor: mathematics application for scientific statistics and analysis
Marble: Virtual Globe to learn about Earth and Moon
Rocs: IDE for designing and analyzing graph algorithms
Step: physics simulation engine
Edubuntu has a new logo and comes with a number of education wallpapers to make it look educational-focused desktop. With its release on April 20th, Edubuntu has made a great comeback as an Ubuntu official flavor. However, it is available for 64-bit (amd64) systems only. It remains to be seen whether the developers will provide an ARM64 (AArch64) version.
The sources for this article include a story from 9to5Linux.com.
Summary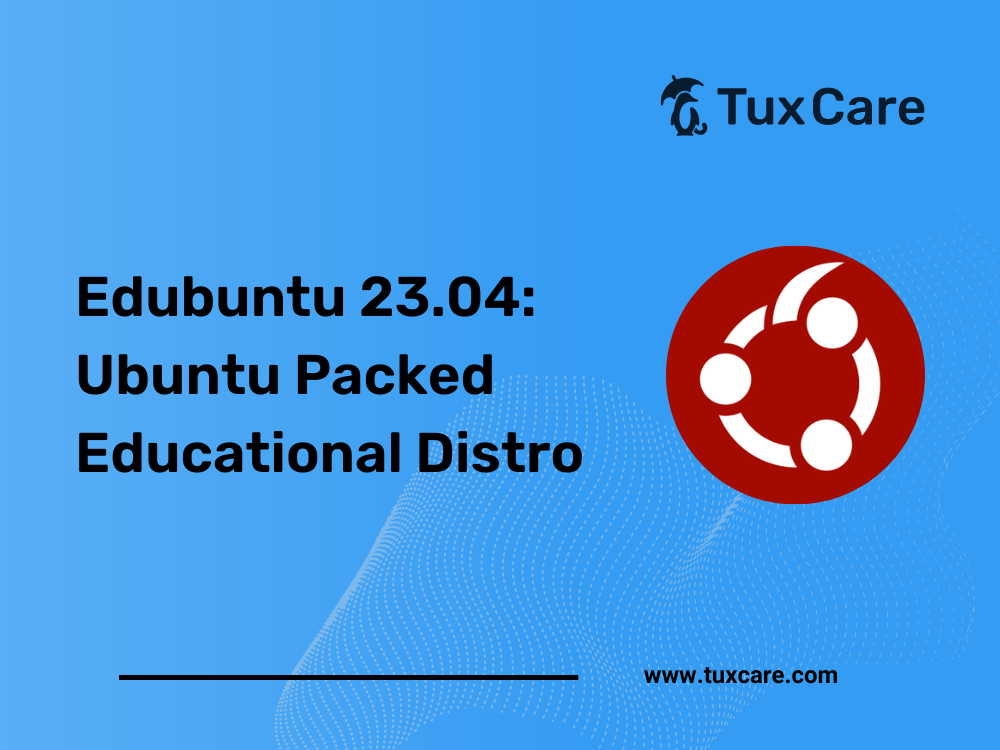 Article Name
Edubuntu 23.04: Ubuntu Packed Educational Distro
Description
Edubuntu 23.04 has released on April 20th as an official Ubuntu flavor based on Ubuntu 23.04 (Lunar Lobster).
Author
Rohan Timalsina
Publisher Name
TuxCare
Publisher Logo

Looking to automate vulnerability patching without kernel reboots, system downtime, or scheduled maintenance windows?
Become a TuxCare Guest Writer