Content Table

Join Our Popular Newsletter
Join 4,500+ Linux & Open Source Professionals!
2x a month. No spam.
Firefox 113 Beta Supports Animated AV1 Images
The upcoming release, Firefox 113 is set to introduce some exciting features, such as animated AV1 images (AVIS) support, a more secure password generator with special characters, and an enhanced Picture-in-Picture mode with extra functionalities, allowing users to rewind, check video duration, and view full-screen display on popular video websites.
Additionally, Firefox 113 will bring a feature that was originally intended for Firefox 112, allowing Linux and macOS users to use FIDO2 / WebAuthn authenticators over USB for supporting passwordless logins.
More Updates
Another noteworthy update that has not yet been shared in the release notes includes the provision of an official DEB binary package by Mozilla for Debian and Ubuntu systems. This development is expected to simplify the process of updating Firefox installations to the latest version on the day of its release for users of these operating systems. However, it is essential to note that the DEB package requires libqdk-pixbuf-xlib-2.0-0 and libqdk-pixbuf2.0-0 packages on the Debian/Ubuntu system.
Furthermore, Firefox 113 has an updated bookmarks importing feature to automatically import the favicons of the bookmarks, making it easier for users to identify them when importing browsing data from Chrome-based browsers. Also, Firefox now adds support for Microsoft Outlook file drag-and-drop functionality.
In addition, Android users will see some interesting changes with Firefox 113, including hardware-accelerated AVI Video decoding by default with supported hardware or via software decoding. GPU-accelerated Canvas2D is now turned on by default for Firefox for Android, which was already done for Firefox 110 on macOS and Linux. Lastly, it allows users to print from websites that utilize windows.print() method.
Web developers will also get benefits from Firefox 113's new features, as it offers scripting CSS media query support, various new WebRTC features to improve interoperability, forced-color-adjust property support, color functions from the color (level 4) specification, and enabling module scripts to import other ES module scripts on worklets.
Conclusion
Mozilla has scheduled the release of Firefox 113 for all supported platforms on May 9th, 2023. Meanwhile, those who are interested in exploring the new features and improvements earlier can download the latest beta release from the official website. Since this is a pre-release version, it is not a good idea to use it for production systems.
The sources for this article include a story from 9to5Linux.com.
Summary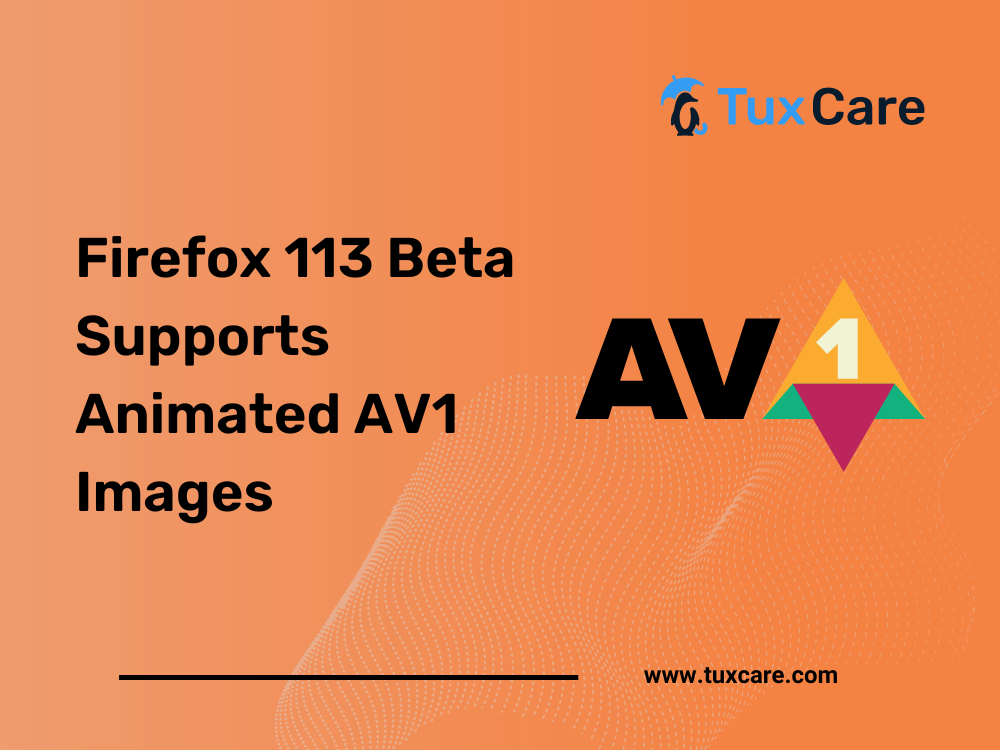 Article Name
Firefox 113 Beta Supports Animated AV1 Images
Description
The upcoming release, Firefox 113 is set to introduce some exciting features, such as animated AV1 images (AVIS) support.
Author
Rohan Timalsina
Publisher Name
TuxCare
Publisher Logo

Looking to automate vulnerability patching without kernel reboots, system downtime, or scheduled maintenance windows?