Four Things To Do When in San Jose for Arm TechCon 2019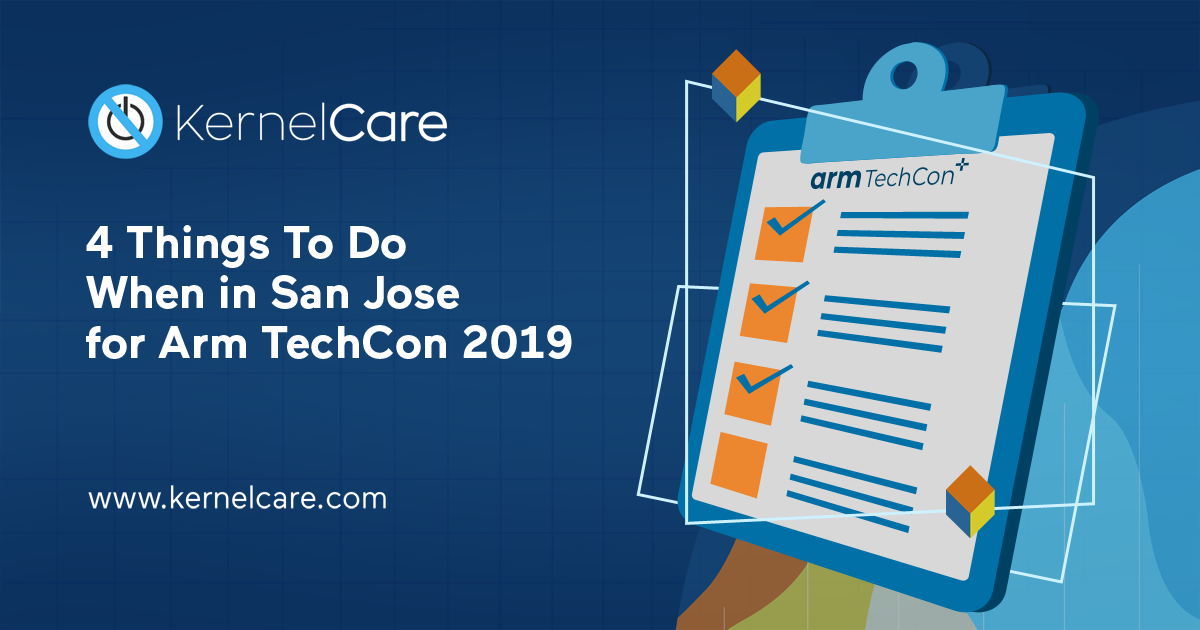 On October 8–10, 2019, KernelCare will be attending Arm TechCon 2019  at the San Jose Convention Center. KernelCare have been live-patching Linux kernels on ARM architectures for a while now, and we're keen to keep spreading the word amongst the experts of the ARM world. We'll be at booth #1238; you can book a meeting with KernelCare's CEO, Igor Seletskiy, here.
If you're flying in for Arm TechCon, we look forward to seeing you there. We're sure that much of your time will be taken up with keynotes, sessions and workshops. However, San Jose is a great town, with more than just a good convention centre. If you find time to get out and about, check out these four San Jose landmarks dedicated to the exploration of science and technology:
Don't miss out on Googleplex.
It would be madness to pass through Silicon Valley and not drop by Google's headquarters in Mountain View. You can walk around 12 acres of the campus unescorted. The grounds make for a lovely walk, and you can see the famous Android lawn statues, where there are sculptures of Android, Nexus One, Jelly Bean, Oreo, Cupcake, Pie, Gingerbread and more. These sculptures were designed by sculpture studio Themendous, and each one represents Google's technological breakthroughs.

1600 Amphitheater Parkway, Mountain View, California
Awaken your inner child at the Intel Museum.
Learn about the history of Intel, and how the company's founders, Gordon Moore and Robert Noyce, envisioned the world's first microprocessor. This interactive museum can be quite an educational tour. It has a kiosk where you can send digital composite photo postcards to friends; a Name Machine to create letters in binary code; a simulated Intel Fab (sterile microchip fabrication lab); and more. Be sure to read up on Intel's co-founder Gordon Moore and his now-famous Moore's Law (1965).
Open Monday-Saturday
2200 Mission College Blvd., Santa Clara
https://www.intel.com/content/www/us/en/company-overview/intel-museum.html 
Spend a day at the Tech Museum of Innovation.
This 132,000-square-foot Tech Museum of Innovation houses numerous exhibits, video walls, music stations, touch screens, and social robot assembly stations. One could spend an entire day browsing through the multiple levels of interactive science and technology exhibits. One exhibit to watch is the VR cyber sleuth exhibit, where you can explore your own body metrics. As you go through the museum, their customized sensor kit will record, measure, and display your activity level, tension and mental focus. To top it all off, you can watch science and technology feature films like Dream Big: Engineering Our World at the IMAX Dome Theater.
Open daily
201 S. Market St.
How well do you know your computers? Find out at the Computer History Museum.
The Computer History Museum's exhibits dates back 2,000 years. Take a trip into the Information Age and discover the roots of today's internet and mobile devices, starting with the abacus and moving right up to machine learning. The museum has over 1,100 historic artifacts, including some of the very first computers from the 1940s to the 1950s. There's even a "World of Warcraft" exhibit with a life-size Thrall statue to boot. Naturally, the gift shop offers nerdy items such as Star Trek mugs, tshirts, Twitter mugs, motherboard magnets, and robot ice cube trays.
Open from Wednesday-Sunday
1401 N. Shoreline Blvd, Mountain View
Don't forget to drop by our booth #1238! Let's talk trends and business. You can book a meeting with KernelCare's CEO, Igor Seletskiy, to ask questions or discuss your case.
Get a FREE 7-Day Supported Trial of KernelCare 

Looking to automate vulnerability patching without kernel reboots, system downtime, or scheduled maintenance windows?
Become a TuxCare Guest Writer