Linux Server Security Best Practices in 2020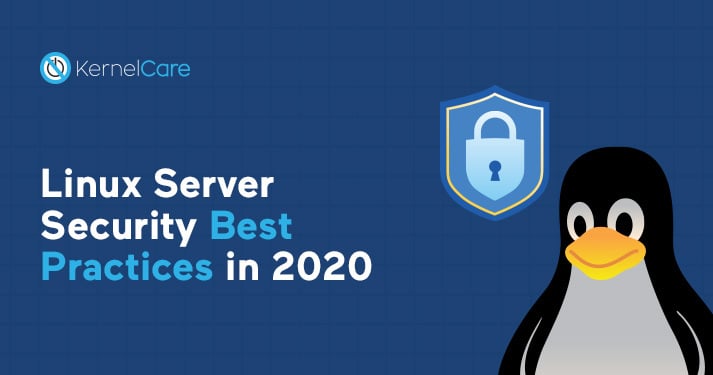 Whether your system is running in a local office or remotely in a data center, security is vital to any environment. Unfortunately, there are often considerable security concerns associated with Linux servers. More and more systems become compromised on a daily basis. And vast amounts of users are unaware that proactive server security measures are required to thwart exposure. It is essential to comply with best practices for Linux security to protect your servers from vulnerabilities and threats.
In this post, we'll provide a comprehensive overview of Linux security best practices. The following nine security tips can help enterprise companies across all industries to protect their servers, remain compliant, and avoid extensive and unnecessary system downtime.
Contents:
Best Practices for Linux Security
To ensure that your Linux servers remain secure, it is crucial to set up systems that disclose any malicious activity, including:

Take Inventory of all Software and Hardware
It would be an enterprise's advantage to take across-the-board inventory of all software and hardware within their infrastructure. With a clear view of the software running and hardware in operation, it becomes much simpler to compare known vulnerabilities and establish which patches are the most critical.

Assign Risk Levels
Patching the wrong systems can be costly for an enterprise, unnecessarily eating up precious time, money, and resources. Although each system should be patched, assigning risk levels to each item in your inventory and prioritizing those that are more substantially vulnerable will better protect exposed items from attack.

Perform Regular Software Updates
An enterprise must perform regular software patches to its Linux server to address the vulnerabilities that may arise. To their detriment, Linux users commonly fail to implement such patches. Lacking timely updates can result in software that is easily exploited by hackers.

Enable Automatic Updates
In addition to regular software updates, enterprises should enable automatic software updates. An automated update approach can alleviate the stresses associated with addressing multiple required security updates. Furthermore, with automatic updates, an enterprise's software security measures will keep up-to-date without requiring any extra attention or user resources.

Consolidate Software
Although often intriguing, new software is not always necessary. Utilizing several versions of one piece of software can put an organization at an elevated risk of exposure. As time goes on, efficient systems can stall or become bloated due to unfeasible, unused, redundant programs. "The added benefit to selecting a minimal install is that the system's footprint is also minimal." Additionally, performing a system-wide audit yearly can help enterprises optimize their servers, allowing them to continue running as efficiently as possible, even with new programs.

Mitigate Risk
Applying patches can often require a considerable amount of time, especially when the patch's necessary modifications to function are more substantial. Under such circumstances, enterprises should do what they can to mitigate risk. The best way to do so is to limit the impact and likelihood of an exploit while the patch is being installed until it can be applied safely and adequately.

Backups and Testing
Linux servers must perform offsite backups, as they can safeguard the access of essential data in the event of a security threat. Such backups are crucial, mainly to protect Linux servers from ransomware attacks. Although these backups cannot prevent ransomware attacks altogether, they can ensure that the resulting damages will be limited, providing critical data access.
Moreover, it is imperative to test a new patch before applying it to all servers. Each environment is distinct. As a result, any patch can lead to issues that may potentially crash your servers. Many enterprises apply the patch to a small subset of their systems to avoid this, ensuring that no significant problems exist.

Execute Security Audits
As much as an enterprise may try to enhance their Linux server security, threats can still loom. If not properly and regularly upgraded, even the most secure servers can fall victim to cybersecurity threats. Security audits highlight existing gaps and establish the best routes for addressing such issues, allowing your server to stay protected.

Implement KernelCare
With live vulnerability patching for Linux servers and devices, KernelCare prevents dangerous patch delays. KernelCare is the first defender of Linux kernels, allowing enterprises to say goodbye to rebooting servers. No longer requiring IT teams to deliver patch updates in the night or coordinate extensive downtime, Linux Kernel security ensures that patches are applied safely and promptly, allowing enterprises to stay compliant and protected from threats.
Conclusion
It is essential to secure your Linux server. Giving your Linux server an extra boost of security with KernelCare will keep it protected from threats and eliminate vulnerabilities while saving your business time, money, and resources. And comprehensive management and implementation of patches are critical to ensuring server security. For tips regarding maintaining compliance and ensuring safety with faster patch management, visit our site.
Enterprise companies can also try out KernelCare for free on all of their servers for 30-days. Sign up for your free-trial today!

Looking to automate vulnerability patching without kernel reboots, system downtime, or scheduled maintenance windows?
Become a TuxCare Guest Writer