Oracle Linux Extended Support: Overview of Linux Support Services
Full, comprehensive support from software vendors almost always have an end date. At some point, vendors need to focus their resources on supporting newer releases of an operating system which means that full support is cut off somewhere between five and ten years after a specific version is released.
However, for a variety of reasons users may not be able to upgrade in time. To make sure that users are not left working with an unsupported OS (Read about: THE RISKS OF RUNNING AN END OF LIFE OS – AND HOW TO MANAGE IT), many vendors sometimes supply a more limited extended support service – but at a prohibitive cost.
That's the case for Oracle too. In this article, we outline why extended support is necessary and explain what Oracle Linux Extended Support offers for users of Oracle Linux, RHEL, and CentOS. We also look at the pros and cons of relying on Oracle's Extended Support solution.
Content:
1. The need for extended support: it's complicated
2. Understanding Oracle's three support tiers
3. How does Oracle Linux Extended Support work?
4. Is Extended Support from Oracle a good idea?
The need for extended support: it's complicated
New versions of operating systems are released all the time – the pace of technology is quick so vendors will frequently release new editions of software. For some workloads, switching to the new version of an OS is seamless, and organizations would simply upgrade soon after a new release comes to market.
But there are circumstances under which upgrading simply isn't feasible or can't be completed before extended support ends. Reasons include:
• An application or service that runs on the operating system is not compatible with the new version of the operating system, blocking the upgrade path.
• The upgrade process involves too many machines and the resources to execute an upgrade are simply insufficient.
• Tech teams may not have the technical knowledge to feel confident about an upgrade and prefer to delay the upgrade as long as possible.
• For some reason the approaching OS end of life snuck up on the team and nobody realized that support is ending shortly – leaving too little time to upgrade.
For any of these reasons, an organization may find that it can't upgrade to a supported version of Oracle Linux, or that it can't upgrade before Oracle's comprehensive Premier Support ends.
That's where Oracle's extended lifecycle support – called Oracle Extended Support – may be an option.
Understanding Oracle's three support tiers
Before we examine Oracle Linux Extended Support in detail, let's first take a look at the three support tiers for Oracle Linux.
Basic and Premier Support
First, Oracle has committed to making Premier Support for Oracle Linux available for a minimum of ten years after the date of release. This includes 24×7 telephone support and online support tickets as well as access to all updates such as feature enhancements and security patches.
It also delivers access to a range of other integrated Oracle services – including Oracle Enterprise Manager for Linux Management, and Oracle Container runtime for Docker. (There is another tier of official support called Basic Support. It is a subset of Premier Support, and it excludes several features of Premier Support – but interactive support and patches are included).
Essentially, Oracle promises to provide comprehensive support of every aspect of Oracle Linux in the enterprise environment, for at least ten years after the release of the Oracle Linux version in question. The table below illustrates how, for example, Oracle Linux 7 enjoys Premier Support from release in July 2014, with premier support ending July 2024.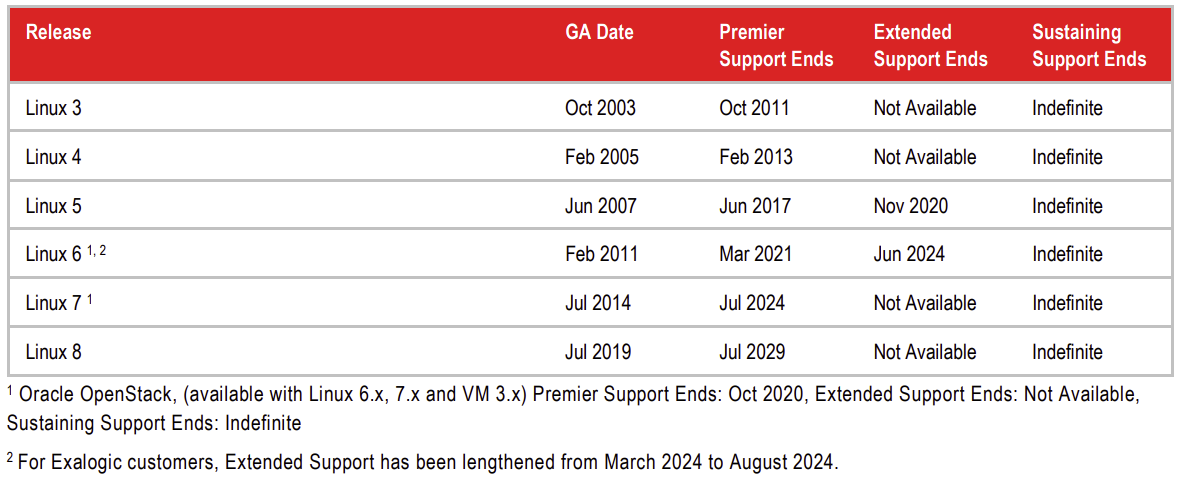 Ten years is a long support window and in all fairness for most purposes that should be long enough, but as we explained above there are circumstances under which enterprises users may be stuck on a specific release beyond the Premier Support window – and that's where Oracle Extended support comes into play.
Oracle Extended Support
Extended Support for Oracle Linux is not nearly as complete as Premier Support. We'll explain exactly what's provided in the next section, but in short, Oracle provides critical support for security vulnerabilities and also offers users of Extended Support the ability to submit service requests. In some cases, RHEL or CentOS installations are also covered.
However, under no circumstances should enterprise users see Extended Support as a continuation of Premier Support – it is a far more limited level of support for Oracle Linux. However it does cover the essentials so that enterprise workloads are protected against common threats – and so that enterprise users have a fallback to service requests if needed.
Note that Extended Support runs for a limited period – taking a look at the above table, it appears to run for about three years and three months from the end of life for the OS. For example, Premier Support for Oracle Linux 6 ended in March 2021 – but Extended Support is available until June 2024.
Sustaining Support
Oracle offers a final tier of minimal support for Oracle Linux – it's called Sustaining Support. There is no end date for this level of support and importantly it does not include any patches or updates.
In other words, if a new security vulnerability is found in the version of Oracle Linux you are using and if you are relying on Sustaining Support you won't be covered – your Oracle Linux version will be vulnerable to any exploits that emerge.
Simply put, Sustaining Support is not a viable option for live workloads as it does not protect your organization against newly discovered vulnerabilities. That said, Sustaining Support does provide a couple of benefits – including the ability to log tickets for support and access to My Oracle Support Portal.
How does Oracle Linux Extended Support work?
As we explained in the previous section, Extended Support kicks in – if you purchase it – once Premier Support finishes, and will keep you going for another three years or so beyond Premier Support, judging by past experience anyway.
What's included in Oracle Linux Extended Support
Compared to Oracle Premier Support, Extended Support does not get you the same comprehensive support, but Extended Support covers many of the essential support items you'd expect to get covered. Some of the points you'll get covered include:
• Patches and fixes. Arguably the most important part of Extended Support, this means that you are covered if any new vulnerabilities or other issues are discovered in Oracle Linux. Should a security flaw emerge, for example, Oracle will release a patch that will protect you against the vulnerability – and this patch will be available to you as an Extended Support customer.
• Service requests. As an Extended Support customer, you can also continue to send service requests to Oracle for every day and more complex questions. Everything covered in the Oracle Scope of Coverage document is included.
• Access to Oracle resources. Just like Premier Support, Oracle Linux Extended Support perpetuates your access to resources including My Oracle Support, the knowledge base, and community support network, as well as access to the Unbreakable Linux Network.
With both security patches and service requests covered you can conceivably rely on Extended Support to keep your Oracle Linux instances safe for several years.
Note that Oracle specifically excludes two aspects of ongoing support when discussing Extended Support. First, Extended Support does not include the certification of new hardware. Oracle also excludes the backporting of any fixes.
Coverage for RHEL and CentOS too
Oracle Linux is a binary-compatible version of Red Hat Enterprise Linux (RHEL) – just like CentOS. As such, Oracle also offers Extended Support coverage for RHEL and CentOS instances. There are, however, some restrictions to this coverage.
If you buy Extended Support from Oracle to cover your end of life RHEL and CentOS instances you are limited to coverage for packages that are provided in the Oracle Linux installation media. And, as with all Oracle Extended Support arrangements, your coverage is limited to what is specified in Oracle's Scope of Coverage document.
Of course, any patches and updates would be Oracle Linux binaries. However, there is binary compatibility between RHEL and Oracle Linux as well as, by consequence, Oracle Linux and CentOS. Therefore these updates should work without requiring any changes to code or without the need to reinstall anything.
Oracle extended support costs are prohibitive
All-in-all Oracle's Extended Support for Oracle Linux delivers a broad set of features that ensures your enterprise workload can continue running safely and securely while you plan to migrate to a newer edition or Oracle Linux.
There is, however, one sticking point with Extended Support from Oracle – the pricing is very high. Yes, you get guaranteed access to technical support and comprehensive updates and patching – but at a price.
Essentially, Oracle Extended Support is even more expensive than Oracle Premier Support – which can already run into the hundreds of thousands. The fee for Extended Support is based on the charge for Premier Support – plus either another 10% or another 20% on top, depending on how long past end of life your Oracle Linux release is.
It is a very high fee for what is sufficient but cut-down support when compared to Oracle Premier Support for systems, which leaves a slight question mark around whether Extended Support from Oracle delivers good value.
Is Extended Support from Oracle a good idea?
It depends on how you look at it. On the one hand, if you are currently running an unsupported version of Oracle Linux or if the version of Oracle Linux you depend on, you must consider every option to extend support for security updates and fixes – and Oracle's Extended Support is one avenue.
That said, Extended Support from Oracle is expensive and nonetheless somewhat limited. As an alternative, you may want to consider TuxCare's extended lifecycle support (ELS) for Oracle Linux. It includes the essential security patches and fixes that will keep your workloads running safe and secure.
From just $4.25 per Operating System Image, TuxCare extended lifecycle support for Oracle Linux, CentOS and Ubuntu is available for at least four years after end-of-life.
Read more about TuxCare extended lifecycle support here.

Looking to automate vulnerability patching without kernel reboots, system downtime, or scheduled maintenance windows?
Become a TuxCare Guest Writer