Atlassian Confluence Data Wiping Alert
In today's digital landscape, ensuring the security and integrity of your data is paramount. Atlassian, a prominent software company, recently issued a crucial advisory regarding Confluence, a popular collaboration and document management tool. This Atlassian Confluence data wiping alert highlights a security flaw, tracked as CVE-2023-22518, that poses a significant threat to Confluence Data Center and Confluence Server users. In this blog post, we will delve into the details of the warning and explore the measures you can take to safeguard against your Confluence data loss.
Atlassian Confluence Data Wiping Warning

Atlassian's recent warning pertains to a critical security vulnerability that carries a severity rating of 9.1/10. This vulnerability allows attackers to bypass authentication and potentially wipe data on vulnerable servers. It's important to note that this flaw does not facilitate data theft. Furthermore, Atlassian's Cloud sites, accessible through atlassian.net domains, remain unaffected by this issue.

Publicly Available Exploit

One of the key points of concern in Atlassian's warning is the presence of a publicly available exploit. This data erasure incident significantly elevates the risk to Confluence instances that are publicly accessible on the internet and have not been patched. While there have been no reports of active exploitation at this time, immediate action is strongly advised to protect your instances.

Incident Response

Atlassian's Chief Information Security Officer (CISO), Bala Sathiamurthy, emphasized the importance of addressing this server vulnerability promptly. The company swiftly released patches to resolve the issue in various versions of Confluence Data Center and Server, including 7.19.16, 8.3.4, 8.4.4, 8.5.3, and 8.6.1.

Mitigation Measures

If immediate patching is not feasible for your Confluence instances, Atlassian recommends implementing mitigation measures. These measures include:
Immediate Backup: Regularly back up your unpatched instances to safeguard your data. In the event of an attack, you can restore your data from these backups.
Restrict Internet Access: Temporarily block Internet access to unpatched servers until the necessary updates have been applied. This step helps minimize the exposure of your instances to potential threats.
Modify Endpoints: Another way to mitigate risk is by modifying specific endpoints in the Confluence configuration. By making these changes and restarting your vulnerable instance, you can reduce the attack surface. However, it's crucial to understand that these actions are not a substitute for patching, and patching should remain the ultimate goal.

Past Warnings and Threats

This recent Atlassian security alert is not the first instance of potential security threats to Confluence. In the past, there have been reports of actively exploited vulnerabilities, such as the privilege escalation flaw tracked as CVE-2023-22515. Various threat groups, including a Chinese-backed group known as Storm-0062 (also called DarkShadow or Oro0lxy), took advantage of these vulnerabilities as zero-day exploits. This underscores the urgency of promptly addressing security issues in Confluence and implementing enhanced data recovery measures.

The Importance of Securing Confluence
The urgency of securing vulnerable Confluence servers cannot be overstated. These servers have been targeted in widespread attacks, including those involving ransomware like AvosLocker and Cerber2021, Linux botnet malware, and crypto miners. Such attacks can have devastating consequences, ranging from data loss to financial and operational disruptions.

Conclusion

In conclusion, Atlassian's recent warning regarding the CVE-2023-22518 vulnerability in Confluence Data Center and Confluence Server underscores the critical importance of maintaining a robust security posture. By promptly applying patches or implementing mitigation measures, you can significantly reduce the risk of data integrity breach and other potential threats to your Confluence instances. 
Remember that proactive security measures are essential in today's interconnected digital landscape, and safeguarding your data is a top priority for businesses and organizations. Stay informed, stay secure, and take action to protect your Confluence instances from harm.
The sources for this piece include articles in Bleeping Computer and Infosecurity. 
Summary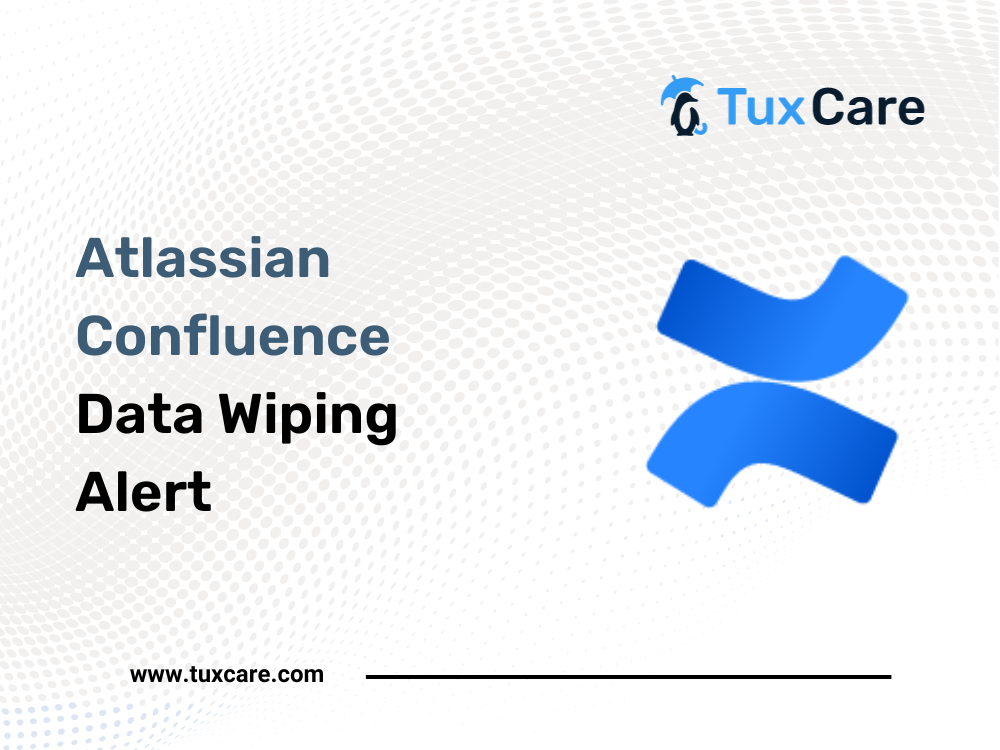 Article Name
Atlassian Confluence Data Wiping Alert
Description
Stay secure against Atlassian Confluence data wiping threat. Get the latest updates and solutions. Protect your data now!
Author
Wajahat Raja
Publisher Name
TuxCare
Publisher Logo

Looking to automate vulnerability patching without kernel reboots, system downtime, or scheduled maintenance windows?
Become a TuxCare Guest Writer