Buy KernelCare with a Discount in CentOS® 6 ELS Bundle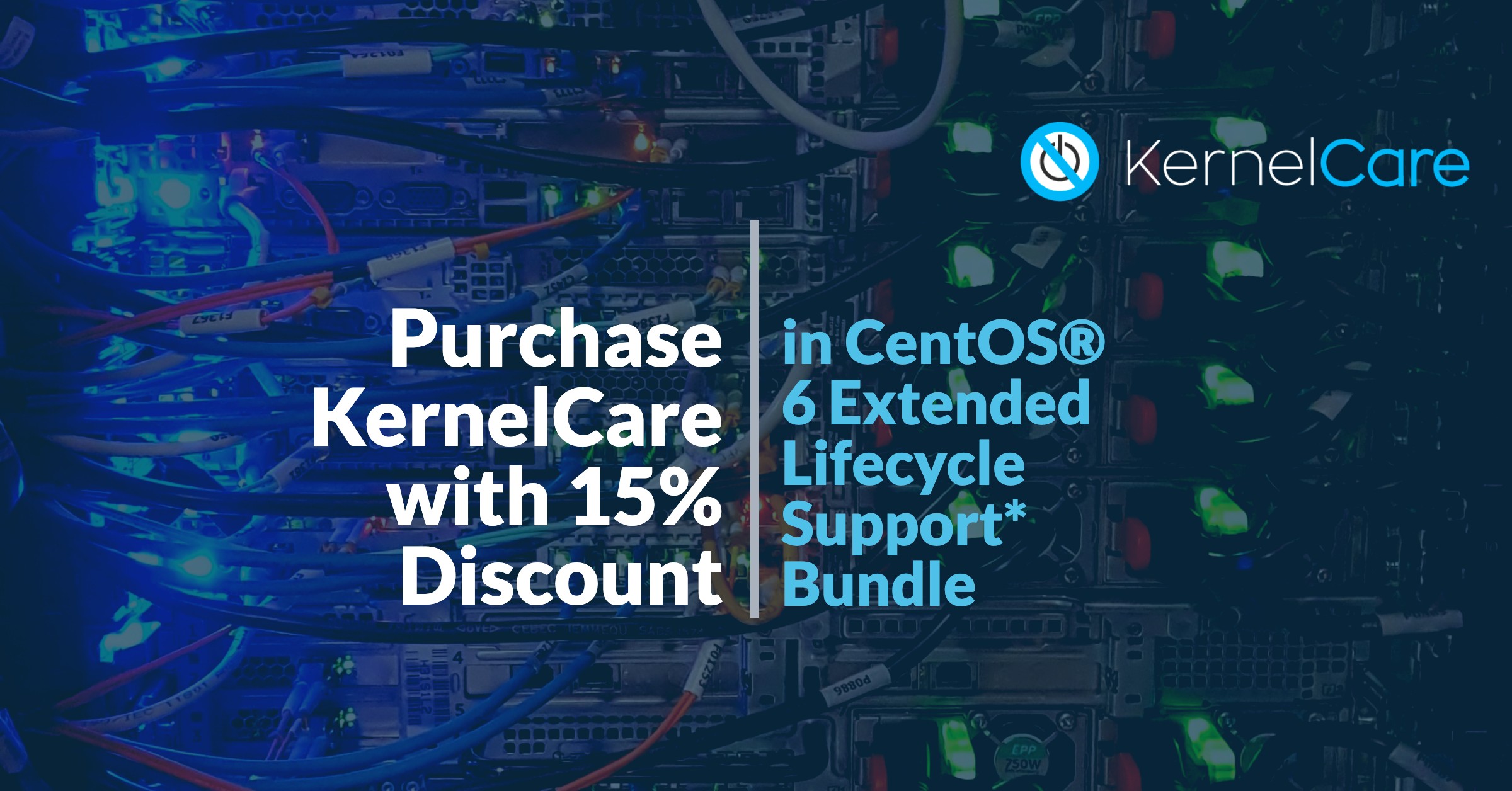 KernelCare is now available with a 15% discount as part of a package with CloudLinux's extended lifecycle support (ELS)* for CentOS® 6. This KernelCare & CentOS® 6 ELS package provides security protection to organisations still running CentOS® 6 after November of 2020 when the OS reaches its end-of-life.
Normally, when an OS reaches its end-of-life, that means no more security support: no more bug fixes, vulnerability mitigation, or kernel patches. This, in turn, means that servers running that OS are more likely to be hacked and attacked. Customers are more likely to have data stolen, and the organisation is more likely to lose business.
With the KernelCare & CentOS® 6 ELS package, however, these security problems are eliminated. Servers running CentOS6 after its end-of-life in November get comprehensive security support that addresses all current and emerging CVEs, and also includes up to date kernel patches.
"In working with many organisations, we have seen there is a high affinity between our Extended Lifecycle Support for CentOS®6 service and our KernelCare product," says Jim Jackson, President and CRO at CloudLinux Inc. "They are both about keeping production Linux systems updated and secure.  Therefore, to make it easier and more cost-effective for our customers looking to increase and extend security on their CentOS®6 server fleets we are offering a limited time bundled discount."
The KernelCare & CentOS® 6 ELS package includes:
KernelCare's rebootless live patching for the Linux kernel. It's provided at a 15% discount off standard KernelCare pricing.
Extended Lifecycle Support for CentOS® 6. This support is provided by CloudLinux at a 30% discount off standard ELS pricing.
Purchasing this discounted package involves certain requirements and limitations:
100 units are required for eligibility.
Only new KernelCare and CentOS 6 ELS customers are eligible.
Customers will be billed for KernelCare in the month purchased, and for CentOS 6 ELS starting in December 2020.
A minimum 6-month subscription is required.
This package must be purchased before 31 August 2020. After that date, KernelCare and CentOS® 6 ELS must be purchased individually.
Installation of the package is easy: it involves running only one script and a single Linux command.
Get a FREE 7-Day Supported Trial of KernelCare 
To get Extended Lifecycle Support for CentOS® 6 that includes KernelCare, fill in the form on this page or simply contact the KernelCare team at [email protected]. A dedicated manager will get back to you to talk about your organisation's particular needs for post-end-of-life CentOS® 6 security.
*The CentOS Project has not endorsed and is not affiliated with Cloud Linux or the Extended Lifecycle Support for CentOS® 6. CentOS® is a registered trademark of Red Hat, Inc.

Looking to automate vulnerability patching without kernel reboots, system downtime, or scheduled maintenance windows?
Become a TuxCare Guest Writer