How KernelCare Helped WebSliceEU Improve Its Hosting Operations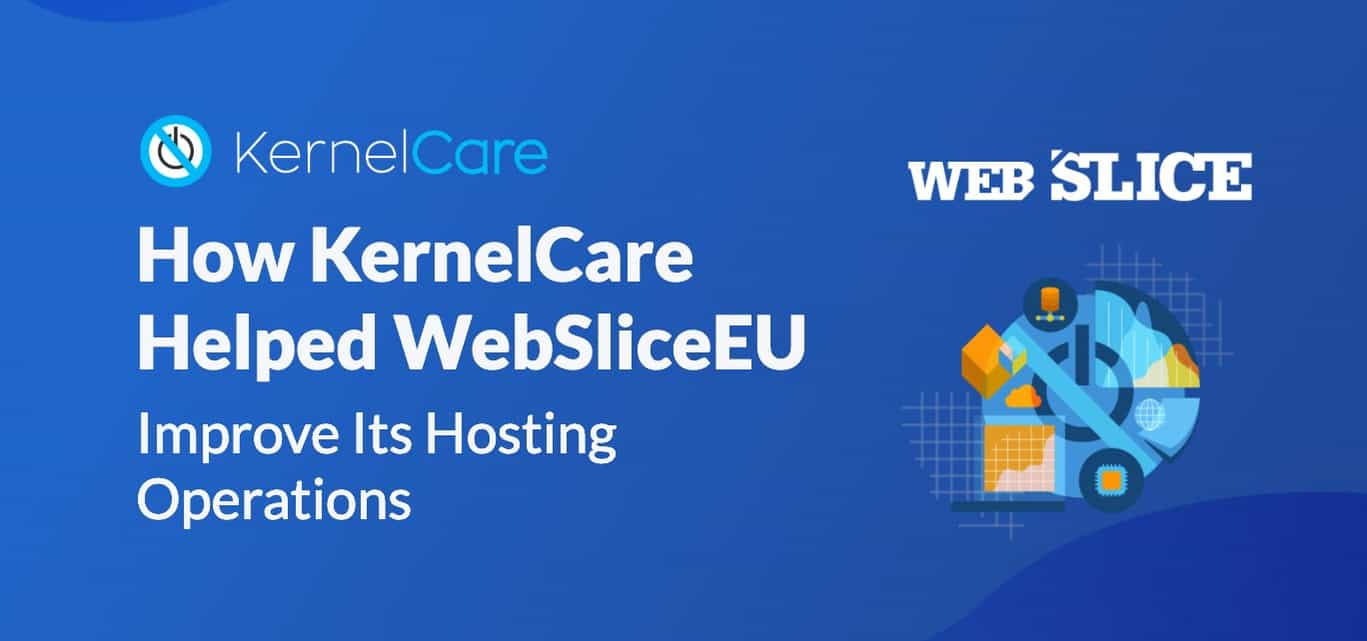 A Managed Services provider from Amsterdam, Webslice, was spending a lot of time and effort patching Linux kernel vulnerabilities. When it began using KernelCare, its kernel patching became much quicker and easier–and less expensive as well. Continue reading to find out more.
Mitigating Kernel Vulnerabilities Was Expensive
Webslice is a cloud-based hosting company based in the Netherlands that provides scalable hosting environments to enterprises like Hearst, Cargill, and Ocean Cleanup. It runs CentOS on Amazon Web Services EC2, with over 125 EC2-based instances and containers.
When the Webslice staff looked at their system administration stats, they were shocked to see how much time was spent dealing with Linux kernel vulnerabilities. Mitigating Spectre, Meltdown, Zombieload, and other CVEs seriously raised the company's operating expenses.
Webslice Used KernelCare To Patch Vulnerabilities
This led the company to look for ways to control its system maintenance costs, and one of the ways it did that is with live patching. It used Ksplice for patching until Oracle dropped support for CentOS, then it explored other options. After evaluating several products, and doing a lot of due diligence, the live patching system Webslice decided to use was KernelCare.
What made the Webslice staff decide to use KernelCare? They spent a lot of time and effort testing it, and it passed those tests with flying colors: KernelCare proved itself reliable on all of the company's AWS-based instances.
KernelCare Made Webslice Operations More Efficient
Through its use of KernelCare, Webslice has made its kernel patching much more efficient. Not only does it spend much less money on licensing fees, the company also spends much less time addressing vulnerabilities. Patching that used to take 40 hours to complete now takes only 15 minutes.
Perhaps the most important advantage offered by KernelCare is its automation. By making kernel patching a simple automated process, KernelCare helps Webslice sysadmins manage increasingly complex system topologies, while satisfying customers that are increasingly demanding.
Oscar Steenman, one of the co-founders of Webslice, sums up the company's adoption of KernelCare this way: "KernelCare does its job quietly and efficiently, focusing on probably the most significant issue in today's Linux stacks–kernel security."
You can watch a Live Patching Linux Kernel Vulnerabilities in Scalable Hosting Environments webinar featuring Webslice Case Study and patching insights from KernelCare team:

Looking to automate vulnerability patching without kernel reboots, system downtime, or scheduled maintenance windows?
Become a TuxCare Guest Writer