KernelCare is heading to Arm TechCon 2019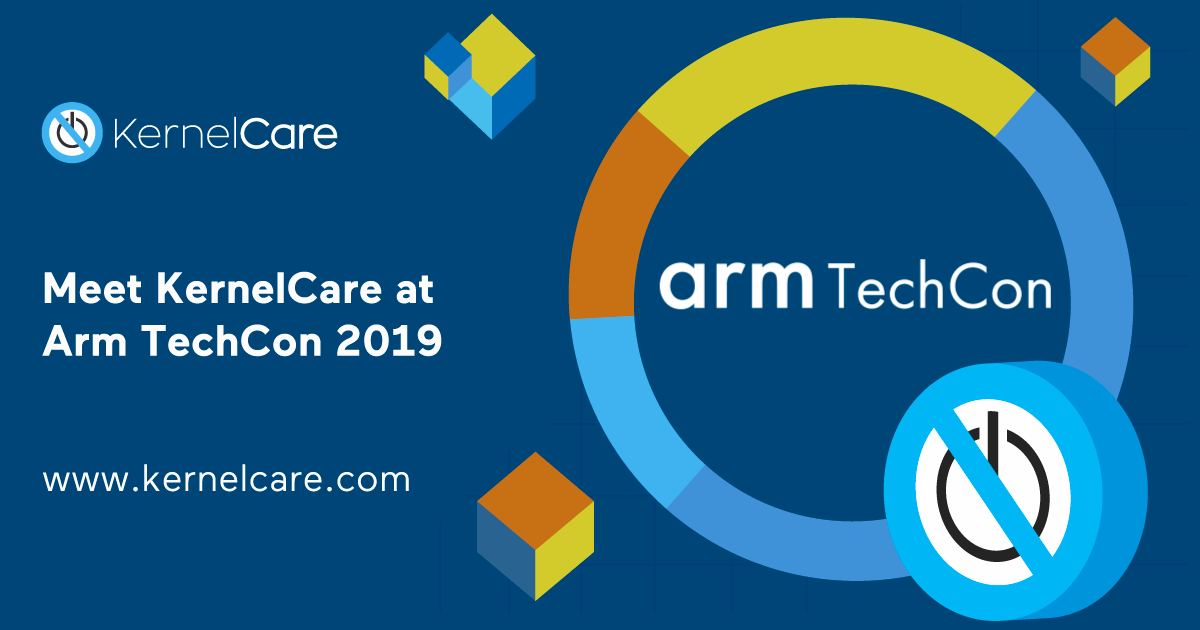 As you may know, KernelCare have been live patching Linux kernels on Arm architectures for a while now. But we're not done spreading the word about live patching Arm-based equipment. To further share our expertise in rebootless Linux kernel updates, we are attending the Arm TechCon 2019, in San Jose, on October 8 – 10, 2019, at the San Jose Convention Center.
Why not stop by our booth #1238 and talk trends and business. Book a meeting with KernelCare's CEO, Igor Seletskiy, to ask questions or discuss your case.
Get a FREE 7-Day Supported Trial of KernelCare 
Arm TechCon 2019 comprises seven technical tracks, reflecting the diverse areas of innovation for Arm-based solutions:
AI & Machine Learning
Automotive, Industrial & Functional Safety
Cloud to Edge Infrastructure
Connected Devices & Cloud Services
Embedded Software Development
Chip Design Methodology
Trust & Security
CEO Igor Seletskiy will host a 30-minute session on automated live patching of Linux kernel vulnerabilities in Arm-based devices on Thursday, October 10, at 12:30 pm, in the Expo Theater at the San Jose Convention Center.
Related posts:
About the event: Arm TechCon is the comprehensive event that showcases the latest advances in Arm's world-class technology, including silicon design and software development, to security, IoT solutions and artificial intelligence.
More than 3500 engineers, architects, developers and product designers from more than 45 countries will join this three-day learning and networking experience with Arm and other leading companies in the technology industries, including KernelCare.
About KernelCare
KernelCare is a live patching system that patches Linux kernel vulnerabilities automatically, with no reboots. It's used on over 300,000 servers, and has been used to patch servers running for 6+ years. It works with all major Linux distributions, such as RHEL, CentOS, Amazon Linux, and Ubuntu. It also interoperates with common vulnerability scanners such as Nessus, Tenable, Rapid7, and Qualys. To talk with a consultant about how KernelCare might meet your enterprise's specific needs, contact us directly at [email protected].

Looking to automate vulnerability patching without kernel reboots, system downtime, or scheduled maintenance windows?
Become a TuxCare Guest Writer