Webinar: Linux Kernel Live Patching in VMware Cloud on AWS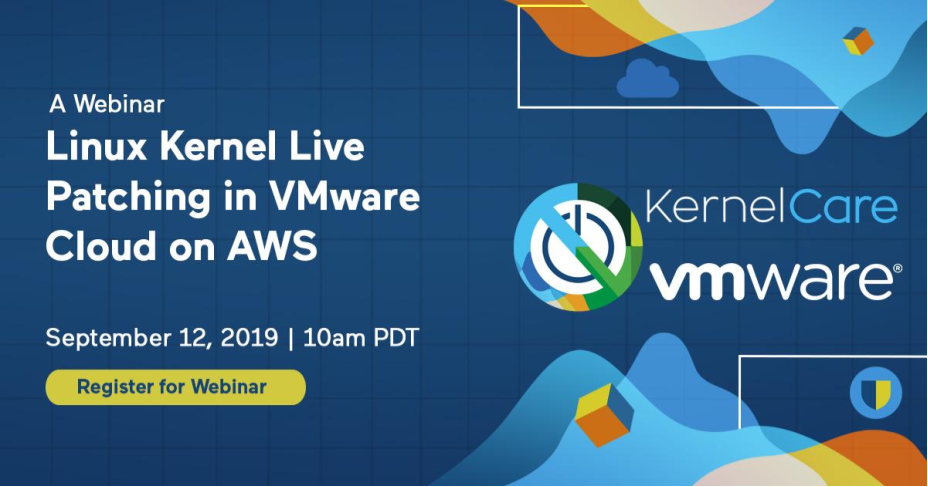 Organizations use services like VMware Cloud on AWS to deploy hybrid cloud service stacks and data centres. Its familiar vSphere operating environment makes it easy to migrate mission-critical services and applications. Building them on Linux yields versatility and a high ROI, but security and availability are harder to get. That's because the Linux kernel needs constant patching, and that means downtime and waiting for reboot cycles. Live patching is a way of updating Linux kernels without stopping or restarting them.
Our upcoming webinar will explain what live patching is, how KernelCare does it, and how the technology fits neatly into the VMware Cloud on AWS operating ethic.
WEBINAR: "Linux Kernel Live Patching in VMware Cloud on AWS"
DATE & TIME: Hosted on Thursday, September 12, 2019. 10:00 (PDT) / 13:00 (EDT)
Your hosts are:
Jamie Charleston, Senior Sales Engineer, KernelCare
Sonali Desai, Product Marketing Manager at VMware Cloud on AWS
The session will last about an hour, and will include a 20 minute open Q&A with Jamie and Sonali.
WHY YOU SHOULD WATCH THE RECORDING:
Learn how being a client of VMware Cloud on AWS ensures your security compliance.
Learn how to bolster your security compliance policies and ensure infrastructure uptime with rebootless Linux kernel live patching by KernelCare.
Listen to a KernelCare client's cloud-based application story and how they use live patching to stay compliant and keep their infrastructure stable.
Get answers to questions from VMware Cloud on AWS and KernelCare experts.
Watch the webinar recording:
More webinars from KernelCare team:
---
About KernelCare
KernelCare is a live patching system that patches Linux kernel vulnerabilities automatically, with no reboots. It's used on over 300,000 servers, and has been used to patch servers running for 6+ years. It works with all major Linux distributions, such as RHEL, CentOS, Amazon Linux, and Ubuntu. It also interoperates with common vulnerability scanners such as Nessus, Tenable, Rapid7, and Qualys. To talk with a consultant about how KernelCare might meet your enterprise's specific needs, contact us directly at [email protected].

Looking to automate vulnerability patching without kernel reboots, system downtime, or scheduled maintenance windows?
Become a TuxCare Guest Writer