Anonymous Sudan DDoS Attack Cloudflare Decoded
In a recent wave of cyber disruptions, the elusive Anonymous hacker group Sudan, self-identified as Storm-1359, claimed responsibility for orchestrating a distributed denial-of-service (DDoS) attack that temporarily incapacitated Cloudflare's website. The  Anonymous Sudan DDoS attack Cloudflare incident sent shockwaves through the cybersecurity community, prompting investigations and discussions around the motives and authenticity of the group's claims.
Cloudflare's Response

Cloudflare swiftly acknowledged the DDoS attack, emphasizing that it exclusively impacted the www.cloudflare.com website, leaving their broader range of products and services unscathed. A Cloudflare spokesperson assured users that no customer data or services were compromised during the incident. This emphasizes that the website operates on separate infrastructure designed to prevent any collateral damage.

Anonymous Sudan DDoS Attack Cloudflare

Beyond Cloudflare, Anonymous Sudan boasted of their involvement in a series of cyber onslaughts, including an alleged DDoS attack on OpenAI's ChatGPT bot and disruptions to Microsoft's Outlook.com, OneDrive, and Azure Portal in June. The group claimed these actions were responses to perceived interference in Sudanese politics by various countries and organizations.
However, skepticism lingers among cybersecurity analysts who question the authenticity of these claims, suggesting a possible false flag operation. Some analysts even propose a link between the Anonymous Sudan hacking incident and Russian cyber interests, further complicating the attribution of these attacks.

Update on Cloudflare DDoS Protection

Implementing robust cybersecurity measures is crucial for protecting against DDoS attacks. Providing a glimmer of relief to users, Cloudflare confirmed that a fix had been successfully deployed, restoring normalcy to the affected website. This update came after an investigation into an ongoing outage that triggered 'We're sorry' Google errors on Cloudflare's site. The error message, indicating potential automated queries from users' networks, was a temporary hurdle that has since been resolved.

Investigating the Outage
Cyber attack on Cloudflare report shed light on the technical intricacies of the outage. The investigation detailed the error message users encountered and assured that only the www.cloudflare.com website was affected. Notably, the Cloudflare Dashboard, accessible through dash.cloudflare.com, and all APIs and services remained unaffected during this period.
Cloudflare: Persistent Challenges
This Cloudflare website disruption incident marked another challenge for Cloudflare, following a power outage in its North American core data center the previous week. During that outage, the dashboard and APIs experienced disruptions, impacting various services such as Logpush, WARP / Zero Trust device posture, Stream API, Workers API, and the Alert Notification System. Users faced authentication issues and internal server errors, attributed to a misconfiguration in the tool used for deploying a new Workers KV build.
A post-mortem analysis, published in the aftermath of the October 30 outage, revealed that the root cause was a misconfiguration in the deployment tool. This Cloudflare security breach incident highlighted the importance of stringent quality control and thorough testing in preventing disruptions caused by unintentional errors.

Conclusion

As the digital landscape continues to evolve, cybersecurity remains a paramount concern for individuals and organizations alike. The recent cybersecurity threat from Anonymous Sudan
serves as a stark reminder of the persistent threats posed by malicious actors seeking to exploit vulnerabilities in the online infrastructure. The ongoing efforts of organizations like Cloudflare to promptly address and rectify such incidents underscore the collective responsibility to fortify our digital frontiers against cyber threats.
In the face of this cybersecurity news Anonymous Sudan, staying vigilant, implementing robust security measures, and fostering collaboration within the industry are crucial components of a resilient defense against cyber adversaries. As technology advances, so must our commitment to securing the digital realm, ensuring a safer and more secure online experience for users worldwide.
The sources for this piece include articles in Bleeping Computer and Cyber Daily. 
Summary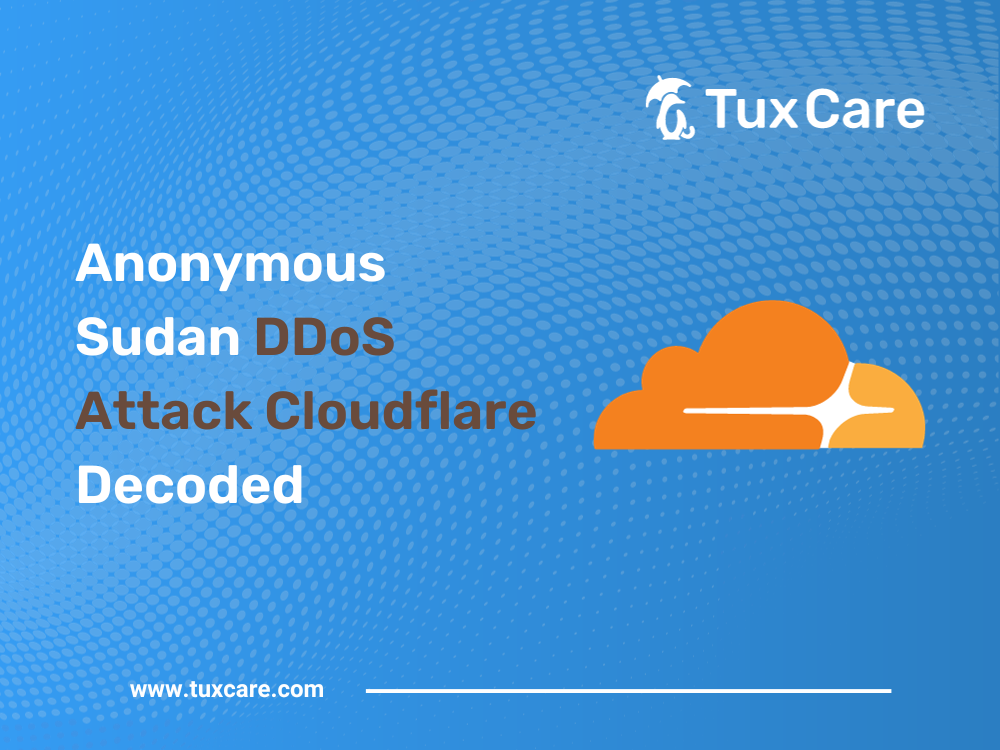 Article Name
Anonymous Sudan DDoS Attack Cloudflare Decoded
Description
Explore the impact of Anonymous Sudan DDoS attack Cloudflare. Uncover insights into the cyber threat and the resilience of online security.
Author
Wajahat Raja
Publisher Name
TuxCare
Publisher Logo

Looking to automate vulnerability patching without kernel reboots, system downtime, or scheduled maintenance windows?
Become a TuxCare Guest Writer